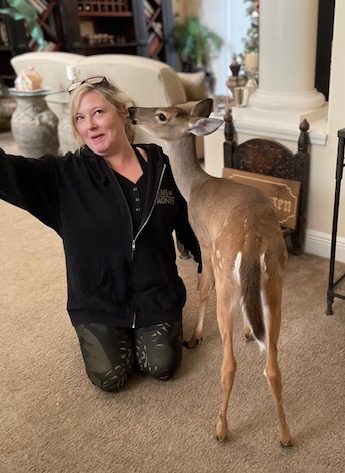 Our friends in Florida…
went for a walk one evening. They live in a gated community and shared that they are blessed to have a wooded area at the end of their dead end street. As we caught up they recalled a special story.
"One evening we walked to the end of the street and this little guy with spots all over him, came from the woods and walked right up to us. We were sure he would be frightened to be near us, but he showed no fear whatsoever. We petted him and loved on him, then waited for him to return to the woods. Clearly, fifteen minutes later, that was not going to happen.
He followed us home and stayed. He's been sleeping in the garage. We have been feeding him for the last three months and he has clearly bonded to both of us, particularly mom.
Well his spots are nearly gone, and he is growing nubs on his head. We have got to encourage him to return to the woods. He can't live in the house, with a full rack of horns on his head."
Two trips to the woods brought no luck. The deer followed us back home both times. The third time, he finally wandered into the woods and returned to us, then wandered back into the woods and stayed.
We still miss him, but hopefully, he will find a girlfriend and not get homesick."
This blog has absolutely nothing to do with my books of combat survivor stories, but I had to write it. Hopefully, it brought a smile to your face today.
*******
If you enjoyed this blog, please like and share it with your friends on social media to help spread the word about Combat Survivor Heroes. A portion of all book profits is donated to local veteran causes.*
Be among the first 1,000 people to receive an advanced, signed copy of Angels on the Battlefield. You can contact me for details by clicking the button below.
If you are interested in a signed copy of our first published book of combat survivor stories, When Heaven Visits: dramatic accounts of military heroes, you can also click the link below. For a discount on your purchase, leave a review of the book on Amazon, take a screenshot of your review, and email it to combatsurvivorheroes@gmail.com.
*Details of the two wonderful veteran causes we support can be found under the Resources tab of the Combat Survivor Heroes website.