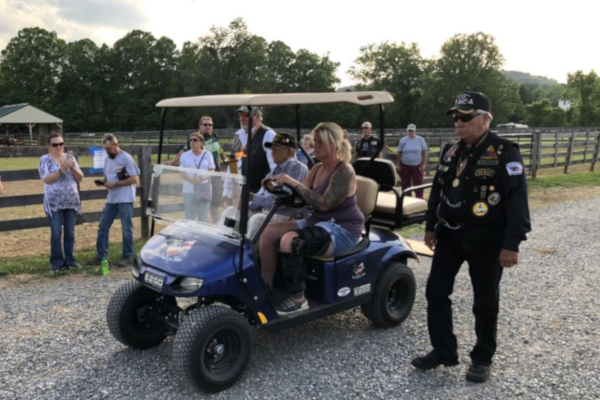 Carlos Showalter…
a great marine, who fought at the battles of Iwo Jima and Saipan led the "Flame of Freedom" ceremony for New Freedom Farm, Buchannan, VA.
New Freedom Farm, founded by Lois Dawn Fritz, Navy Veteran, is located in Buchannan, VA, in the Blue Ridge Mountains of VA. Freedom Farm serves veterans who deal with PTSD and other injuries. Other heroes at Freedom Farm are horses and other animals who have been rescued from neglect and abuse and given a new purpose in life to serve veteran heroes in their time of need.
"Rolling Thunder" sponsors New Freedom Farm". Members of RT's Mississippi chapter, stopped by to celebrate with Carlos, Lois and the assembled group.
Miss Virginia led the group in singing Happy Birthday" to Carlos on the occasion of his 95th birthday.
In addition to enjoying the celebration, I was privileged to present a signed copy of our recently published book "When Heaven Visits, dramatic accounts of military heroes" to the third generation of the Showalter family, Carlos' granddaughter.
Carlos Showalter and Author Jerry Barnes at New Freedom Farm.