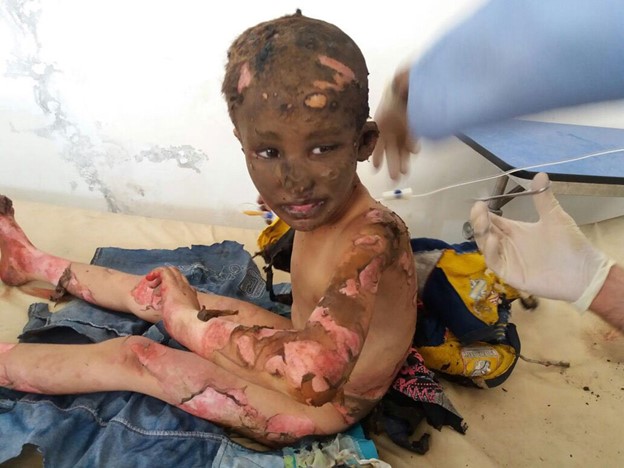 Blisters covering his body…
the little guy couldn't have been more than six or seven years old when frantic parents, brought him to our field medic station in Iraq. A pot of scalding cooking water fell on his left side, burning him from head to toe. Compounding the grim situation, his poor parents waited for two days before realizing that no home remedies were able to provide relief.
The chaotic scene brought instant thoughts of my three children in Illinois.
Lifting the crying little guy to the treatment table, assessing his pathetic situation, we knew some form of relief must be found.
Morphine? Can't do that. I am not a Dr.
Let's begin debridement, drain the blisters, then apply medicinal cream to soothe each area.
The slow process began, enabled by loving care and mounds of chocolate cookies.
An hour later, cries reduced to an occasional whimper, The Champ realized we were bringing relief to his pain.
A week later, he was running around like any little six-year-old.
The Champ is one of several medic mini-stories in our next book, Angles on the Battlefield, scheduled for a Feb '21 publishing.
Be sure and sign up for our newsletter to receive regular updates and stories.
Signing up for our newsletter is the easiest way to stay connected and follow our writing progress. We'll include details on discounts, free stories, and updates on future books. As always, proceeds from our book sales are donated to local veteran non-profits.
Above: photo of The Champ featured in Angels on the Battlefield, 2021